Impact Accelerator
The Impact Accelerator, part of the Quality Practice workstream within the #iwill Learning Hub, was an intensive 12-month programme, which ran between 2018-2021.
About the programme
The Impact Accelerator was designed to foster a culture of learning within youth programme delivery, build organisational capacity for evidence-led improvement, and establish a common approach to understanding and improving impact.
The Impact Accelerator was a cohort-based programme, with the intention that organisations engaged in a deep and sustained mode of learning, sharing collective lessons, insights and good practice as they progressed through the process. The programme took place over four key phases: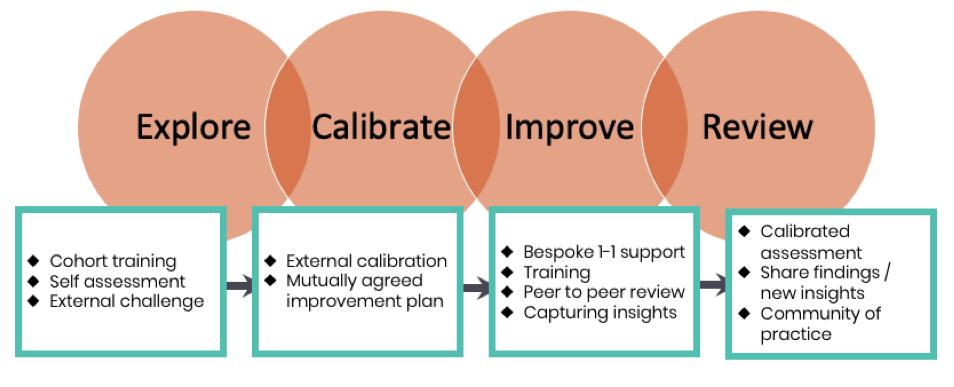 Explore
The common structure running through each of these phases is The Confidence Framework, which focuses on the organisational behaviours and processes that support the design, delivery, evaluation and improvement of high quality youth provision. The process takes organisations through an initial self-assessment, which generates a 'heat-map' of the team's confidence across key aspects of evaluation and learning practice.
Calibrate
The participating team then gathers evidence as grounds for these confidence levels, which is 'calibrated', via a review from an external 'coach'. This calibration is not a 'pass/fail' process: rather, it provides the organisation with a broader perspective, informed by external insight and expertise, and how others in the cohort have rated and evidenced their confidence levels.
Improve
The calibrated Confidence Framework then informs the production of a targeted improvement plan, which sets out specific objectives that the organisation is committed to achieving. This is undertaken with a combination of dedicated one-to-one support as well as peer review and support from other members of the cohort.
Review
The final phase sees the organisation return to The Confidence Framework, re-assessing themselves and reflecting on any changes they see. This also provides a backdrop for a final 'improvement report', which combines a retrospective review of the process, and identifies next steps for the organisation in its continuous quality improvement cycle. As a cohort, organisations are also actively encouraged to share insights, learning and examples of effective practice which others can apply to their own context.
The Impact Accelerator was supported by the #iwill Fund, a £40 million joint investment from The National Lottery Community Fund and the Department for Digital, Culture, Media and Sport to support young people to access high quality social action opportunities.

Visit the Quality Practice page to read our published reports on learning and insights gained over the course of the programme.